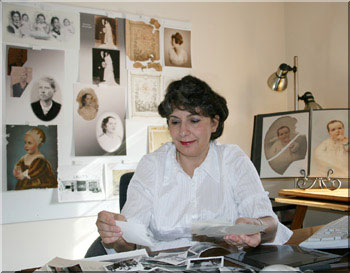 Elaine Martino in ANEW's studio
Artist Statement
My business was inspired by my own personal experience of losing a loved one. This challenging time led me to dusty old albums filled with wonderful photos of a time I had never known, revealing stories I had never heard. These photographs spanned more than ten decades; many had been ravaged by time or mishap. I met all the challenges to repair, restore, and recreate these cherished photos for myself, my family, and future generations, with a passion that grew into a vision soon to be known as 'ANEW Photographic Art & Restorations'.


I breathe new life into cherished photographs and documents. The computer is my medium. Equipped with sophisticated software replicating traditional tools and brushes, and an artistic perspective, the possibilities are limitless making almost anything possible. As a technician I repair tears, remove stains and scratches; restore color and contrast... as an artist I work my digital paintbrush to obscure details that distract, and conversely, accentuate those qualities that enhance the emotional essence and the impact of the image. Sometimes the final image is a collage of treasured photos creatively combined and seamlessly blended into an artistic rendering, that tells a story intended to survive future generations.

As an expert technician and artist, I can create beautiful results from the most damaged of photos. But 'beautiful' is not good enough if the image I create doesn't spark a memory or stir an emotion. Achieving this special result goes beyond the required skills to the essential component, the crucial collaborative relationship in listening to my clients to understand the inherent significance of the person(s) or place in the image…what the image means to the client, and what needs to be accomplished.

As you review the work on this site many highly individual, client back-stories will be revealed putting a finer point on the rewarding experience I share with my clients.